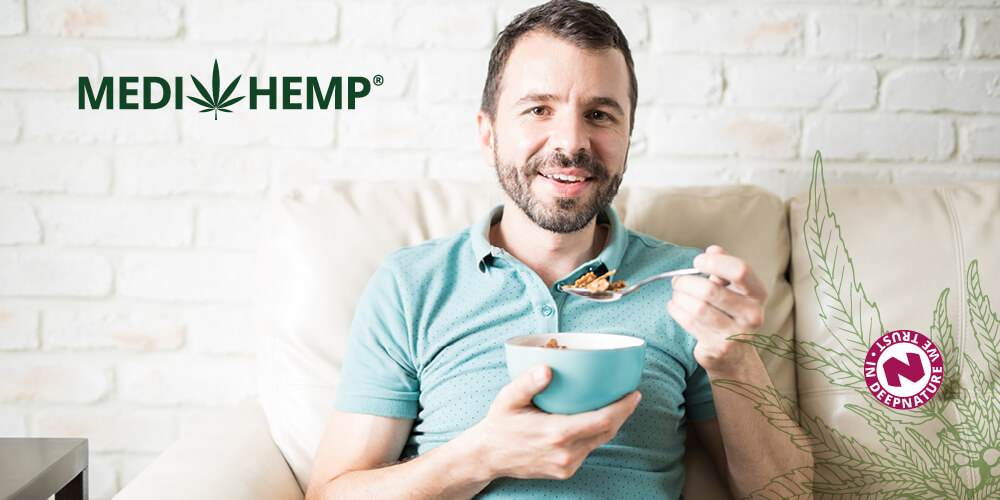 Super Hemp Food
High-quality hemp oil, hemp tea, protein, hemp nuts and Organic Hatcha® Latte - MEDIHEMP foods are suitable for daily consumption. They contain all valuable ingredients of the hemp plant and have a positive effect on body and mind.
What makes hemp so valuable as a food for people?
Hemp contains antioxidants to stimulate detoxification as well as lots of important vitamins, such as vitamins E and B. There is much more vitamin B2 (riboflavin) in hemp than in animal products. This makes hemp food an important part of a vegetarian or vegan diet.
Enjoy a 10% discount on MEDIHEMP organic hemp oil 250 ml (13,95 € instead of 15,50 €) and MEDIHEMP organic hemp nuts (8,91 € instead of 9,90 €) until 05. April 2021. Prepare delicious Easter brunch dishes for your friends and family with these healthy superfoods. Learn all about our organic, locally produced #SuperHempFood on the blog.
Shop now through your Customer Account and you get a Deep Nature Project Voucher for your next purchase.
When the value of your purchase is more than EUR 200, you will get a EUR 25 Voucher. When the value of your purchase is more than EUR 400, you will get a EUR 50 Voucher. When the value of your purchase is more than EUR 600, you will get a EUR 100 Voucher.
Create a Customer Account now! Or log into your existing account. Only when logged in before starting your purchase you will benefit from exclusive voucher offers immediately.
What makes hemp-based foods so special?
Our high-quality MEDIHEMP organic hemp foods taste delicious, are healthy and are also completely natural products. Their high content of omega-3 and omega-6 fatty acids, proteins, valuable vitamins, minerals and trace elements provides the body with that extra boost for the day. You can find more information on our SuperHempFood at www.medihemp.eu
What is the difference between organic hemp products and those that are not organic?
We produce in a sustainable, organic manner. We make use of the entire plant, from the shives to the leaves - we are on a first-name basis with our hemp farmers and accompany the whole production process throughout every step. We never use pesticides, herbicides, fungicides or other toxic plant protection agents. Utmost quality, certified organic, made in Austria.
Why is hemp such a great source of protein?
Hemp seeds have 25% protein, making them the second richest plant-based protein source after soya. Hemp provides your body with all the vital amino acids. What´s more, unlike soya and other sources of protein, hemp protein is highly digestible.
Is hemp an allergen? Which allergens do your products contain?
No, hemp is not an allergen and also contains no gluten. The hemp may come into contact with traces of wheat during harvesting. However, we take great care to keep everything as pure as possible and test every single harvest to minimise the risk. Other allergens that may be included in a product are indicated on the packaging.