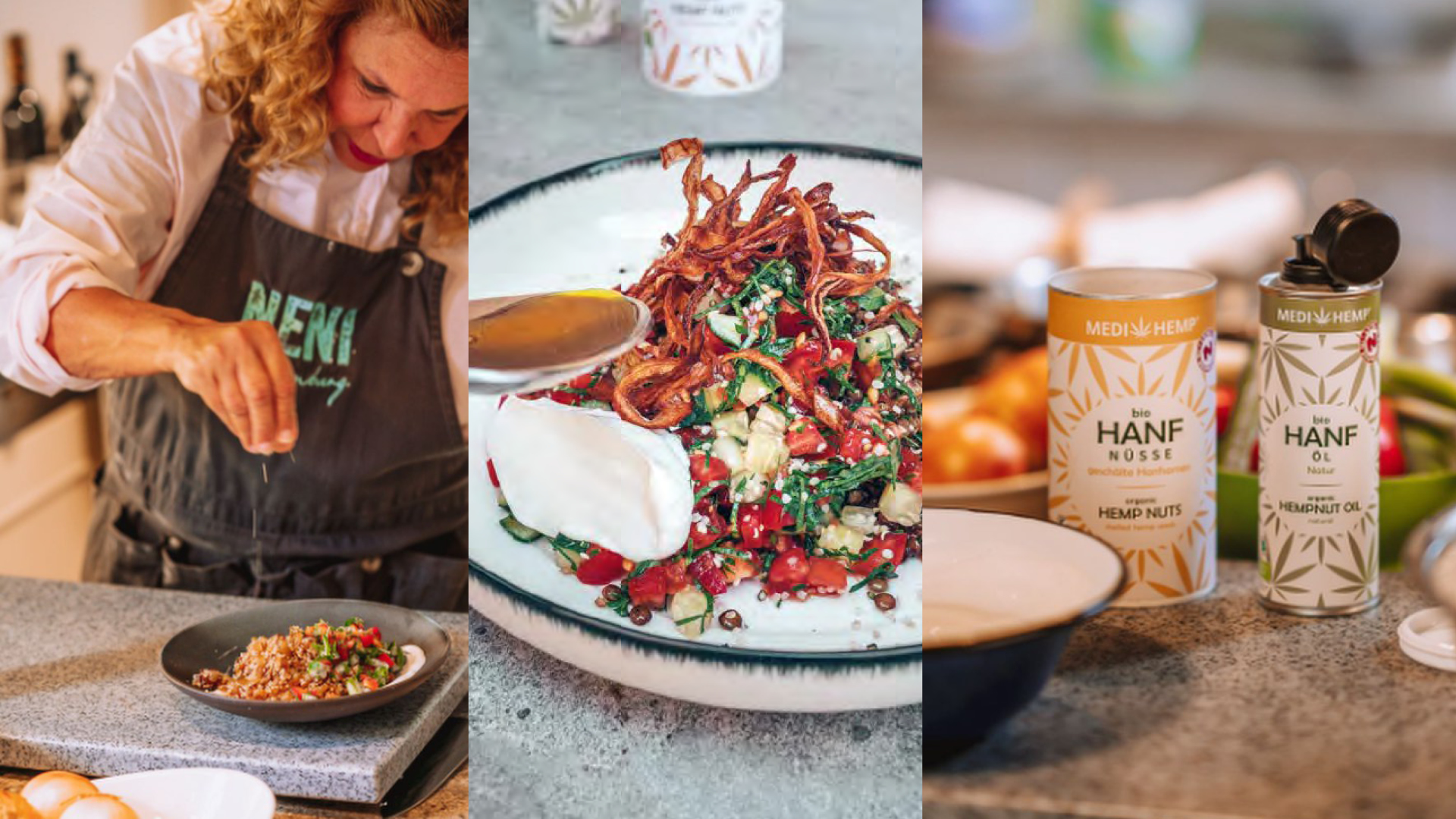 This quinoa and lentil mujaddara with caramelized roasted onions was created in our collaboration with NENI and the star restaurateur and TV chef Haya Molcho in the course of her new cookbook "Wien by NENI". With this delicious vegetarian recipe with MEDIHEMP organic hemp oil and MEDIHEMP organic hemp nuts you take your cooking game to the next level. The two MEDIHEMP products are pure superfoods from nature and full of vegetable protein and essential amino acids, such as the important omega-3 fatty acids. Did you know that hemp oil is the healthy and locally produced alternative to fish oil? #SuperHempFood So, let's go! Let's start cooking.
Are you a vegan? No problem, just swap the Greek yogurt for coconut yogurt. Don't like quinoa? Then replace quinoa with brown rice. The dish also tastes wonderful with it.
You will need these ingredients as a main course for 4 people:
For the mujaddara:
150 g brown lentils
salt
150 g quinoa
225 g onion
40 g grape seed oil
15g brown sugar
½ bunch of parsley
½ bunch of mint
5 coriander stalks
2 tomatoes
2 g of baharat
For the fried onions:
Oil for deep-frying
100 g onion
3 tbsp corn starch
To serve:
For the mujaddara, boil the lentils with 300 g of water in a pan. Cook for about 18 minutes until soft, after 9 minutes put 4g salt in a saucepan and bring to the boil. When the cooking time is over, drain in a colander.

Put the quinoa in a saucepan with 200g water and 3g salt and bring to the boil. Cook on low heat for 15 minutes.

Meanwhile, peel the onion and cut into ½ cm thick rings. Caramelize with oil and sugar in a pan over low heat for about 15 minutes and let it boil down. Pluck the herb leaves and cut roughly. Cut the tomatoes into pieces.

For the fried onions, heat enough oil in a high saucepan to approx. 180 ° C (check with a thermometer). Peel the onion and cut into thin rings. Dust with the cornstarch and fry until crispy until golden. Lift out of the oil and drain on kitchen paper.

Mix the quinoa with the lentils, Baharat, MEDIHEMP organic hemp oil and the caramelized onions and season with a little salt. Spread on a plate and arrange the fried onions, tomatoes and herbs on top, sprinkle with the MEDIHEMP organic hemp nuts. Place 1 tablespoon of yoghurt on each plate and sprinkle the dish with MEDIHEMP organic hemp oil.

We wish you a lot of fun while enjoying!
Would you like to invite family and friends to a brunch? Then, in addition to the quinoa lentil salad, prepare Haya Molchos trout spread on crispy sourdough bread.
Photo credits: NENI