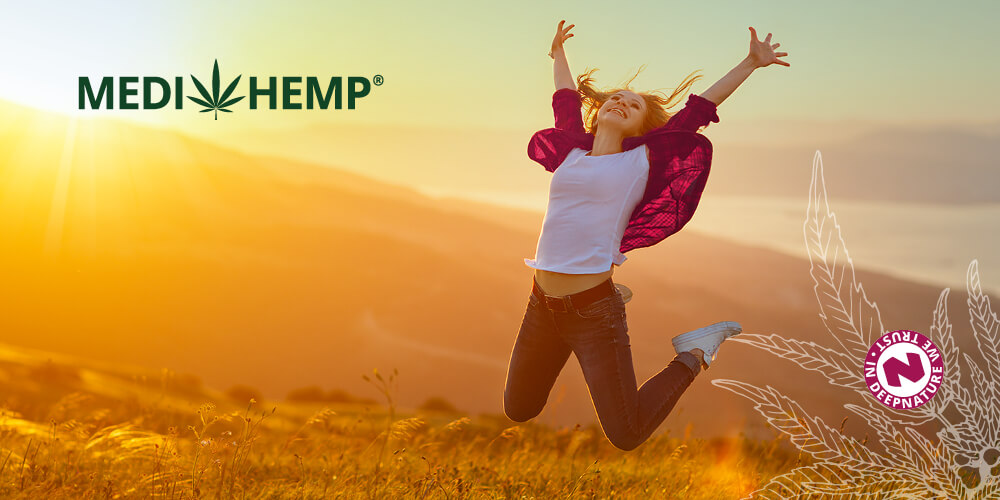 Premium organic CBD & CBG Oils
The quality brand MEDIHEMP is specialized in the production of natural hemp extracts with CBD (Cannabidiol) as hemp oils and in capsule form. Cannabidiol is one of more than 200 known cannabinoids.The hemp ingredient is not intoxicating and supports the body's own endocannabinoid system. MEDIHEMP organic CBD oils are produced in Austria from EU-certified hemp and are 100% legal.
Shop now through your Customer Account and you get a Deep Nature Project Voucher for your next purchase.
Read more
What are CBD and CBDa?
CBD is the abbreviation for cannabidiol, one of 480 active substances found in the cannabis plant. In contrast to THC (tetrahydrocannabinol), CBD does not have an intoxicating effect. It is particularly valued for its regulating potential and is used as a dietary supplement for both humans and animals. The exact description of CBDa is cannabidiolic acid, and it is the precursor to CBD. It also has valuable properties that we can take advantage of for our health.
What is CBG?
CBG is the abbreviation for cannabigerol and is one of the earliest identified active substances in the cannabis plant. CBGa is classed as the 'mother' cannabinoid and is one of the very first cannabinoids in the growing cannabis plant. Over the course of the maturation process, enzymes transform the CBG into other cannabinoids, including CBD. Since plants with a high CBG value only occur sporadically, it is worth cultivating these especially. Santhica is the variety we use to extract CBG for our products.
What is the difference between CBD and CBG?
CBG is the abbreviation for cannabigerol and is one of the earliest identified active substances in the cannabis plant. In the young cannabis plant, CBG is transformed into CBD in the maturation process by the warmth of sunlight and during drying. There are also slight differences in the effects. One substance can be chosen over the other depending on the complaint. For example, CBG is said to be good for skin, sleeping and eye problems. A combination of CBG and CBD can have fantastic synergy effects.
Why should I buy hemp products from MEDIHEMP?
Here at Deep Nature Project, we believe in the power of nature and want to offer you hemp products in their most natural form - with knowledge, care and passion, and zero compromises. All our hemp products are certified organic throughout every step of production. We observe the strict criteria of the regulation on organic farming from sowing to harvest, and use only EU-certified organic industrial hemp varieties.