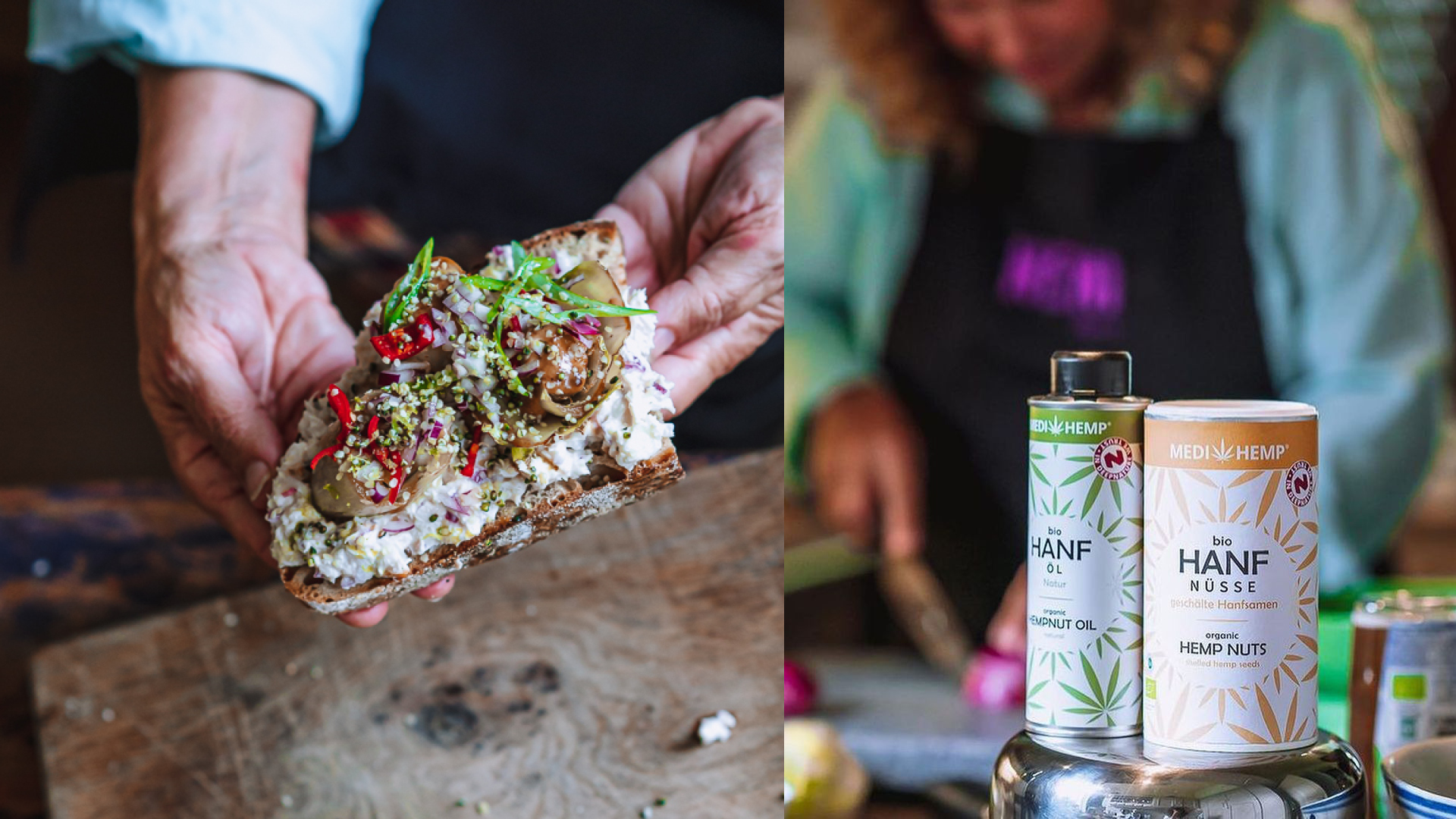 Does your mouth water while reading? No wonder! Because this new and never before published recipe by star restaurateur and TV chef Haya Molcho from NENI combines a delicate spread with our MEDIHEMP organic hemp nuts and MEDIHEMP organic hemp oil on crispy sourdough bread. What are you waiting for? On your marks, set, cook!
You will need the following ingredients for the spread:
1 clove of garlic
15 g red onions, finely diced (put some diced onions aside for the decoration of the bread)
50 g crème fraiche
10 g raspberry vinegar
100 g smoked trout
salt
Lemon zest of 1 lemon
Juice of ½ lemon
Pinch of onion powder
For the dressing:
20 g dried plums
30 g agave syrup
10 g raspberry vinegar
2 cloves of garlic
5 g grated ginger
Grapeseed oil
For the chicory:
3 pieces of chicory, cut into thick slices and stick together with a toothpick
Brown sugar for caramelizing
For the decoration of the bread:
1 spring onion, finely chopped
1 red chilli, finely chopped
For the spread, pluck the trout into pieces. Mix with the finely diced onions, crème fraiche, raspberry vinegar, garlic, salt, lemon zest, juice of the ½ lemon and a pinch of onion powder. Put aside.
For the dressing, cut the dried plums into large pieces. Mix together with the agave syrup, the raspberry vinegar, the 2 cloves of garlic and the ginger with a hand blender. Then slowly add the grape seed oil little by little. It should have a thick, creamy consistency.
Now cut the chicory salads into thicker pieces and put the "roll" together with a toothpick. Put the brown sugar in a pan and caramelize the ends of the pieces on both sides over medium heat. Drizzle each piece of endive salad with the MEDIHEMP organic hemp oil in the pan before turning.
Cut the sourdough bread into thin slices and toast in the oven or in a pan. Now spread the trout spread you set aside on the toasted sourdough bread. Place the caramelized endive salad on top and carefully remove the toothpicks. Spread the dressing over it and decorate with the onions, spring onions, chilli and the MEDIHEMP organic hemp seeds that were set aside.
Finally, drizzle a few drops of MEDIHEMP organic hemp oil over each bread.
Want to try more exclusive recipes created by Haya Molcho for Deep Nature Project? Then try the quinoa and lentil mujaddara with caramelized fried onions
Photo credits: NENI