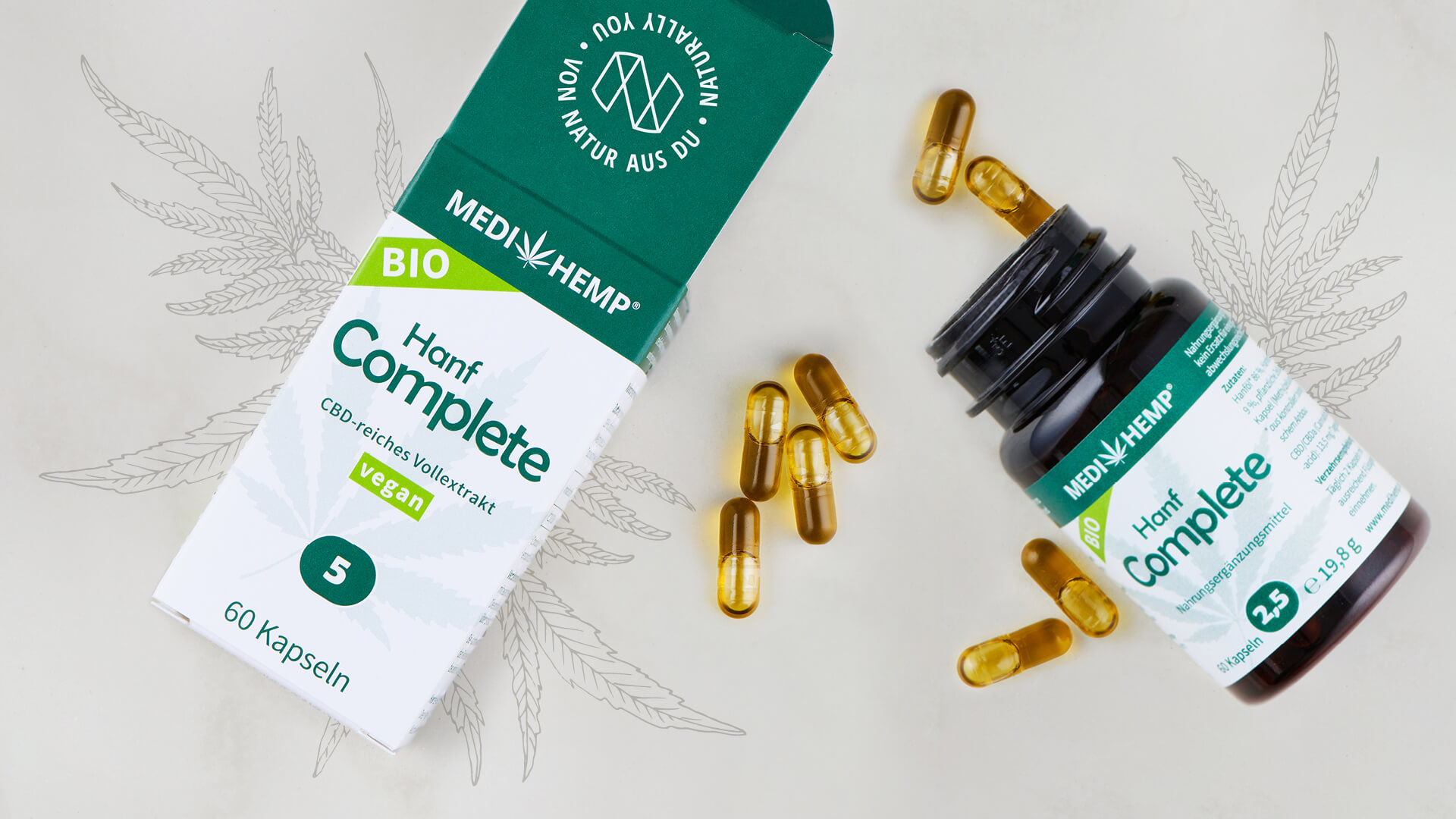 You want to try CBD for the first time and not sure how to start? The vegan MEDIHEMP organic CBD capsules are the most practical and easiest way to integrate your daily dose of CBD into your daily routine. Not only beginners, but also people with a lot of experience in taking CBD like to use our premium organic CBD capsules. Gently cold-pressed organic hemp seed oil with organic hemp extract from CO2 extraction, which enables the production of CBD extracts with a particularly high CBD content, can be found in two strengths in plant-based cellulose capsules.
What is CBD?
Cannabidiol, commonly abbreviated as CBD, is a chemical compound found in the cannabis plant. It has been linked to wide-ranging health benefits for quite some time, including the potential to minimize stress, promote sound sleep, and even relieve inflammation and pain. CBD pills and capsules in particular, also known as hemp capsules, are enjoying growing popularity. This is very understandable, because they offer a practical way to easily and effectively integrate CBD into your own wellness plan to maintain inner balance.
What are CBD capsules?
The MEDIHEMP organic hemp CBD capsules contain gently cold-pressed organic hemp seed oil with organic hemp extract from CO2 extraction and are available in vegetable cellulose capsules. It also contains flavonoids, terpenes, phenols, CBN, CBV, CBG, unsaturated fatty acids, vitamins and minerals. They are vegan, GMO-free, 100% certified organic and available in laboratory-tested premium quality. Here you can order the MEDIHEMP Bio Hemp Complete 2.5% capsules and the MEDIHEMP Bio Hemp Complete 5% capsules.
How do CBD capsules work?
Just like our MEDIHEMP CBD extracts or CBD oils, the MEDIHEMP capsules are not psychotropic. This means that they do not have a mind-altering effect. The non-psychoactive ingredient cannabidiol binds to various receptor systems in the endocannabinoid system. Processes such as blood pressure, the sleep-wake cycle, the immune system or the hormonal balance are regulated by this system. The endocannabinoid system is made up of two parts: the CB1, which is primarily located in the brain; and the CB2 found in the immune system, spleen, and tonsils. The CB1 receptors are responsible for our mood, emotions, movement, coordination, appetite and how we register pain. Hence, scientists have found that adding new forms of cannabinoids like CBD to the body helps promote that CB1 system and an overall healthier endocannabinoid system.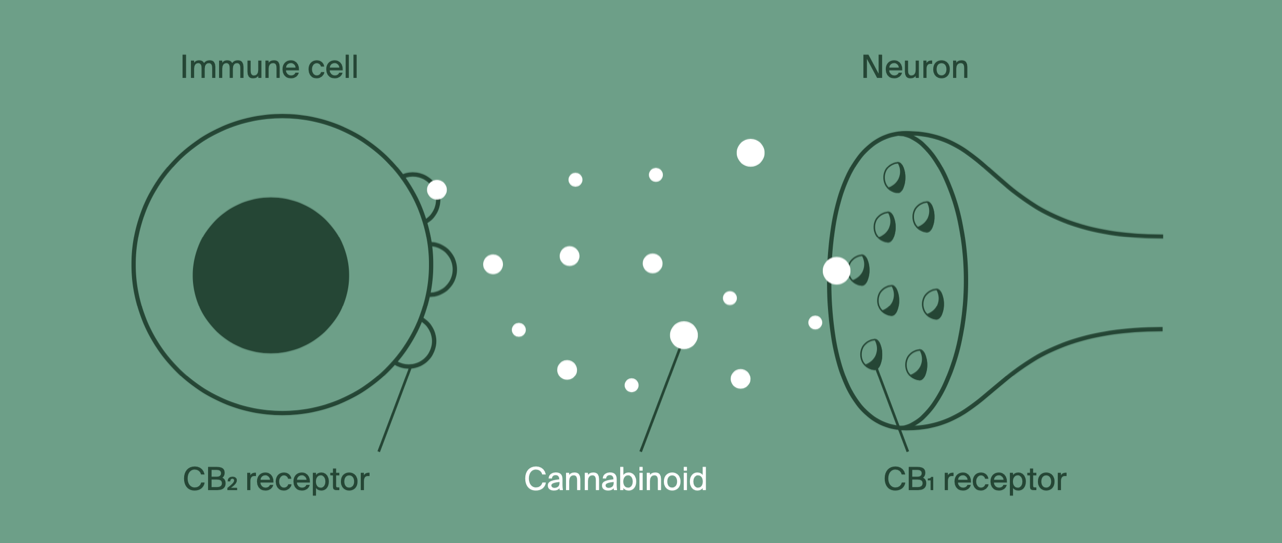 You can support this system in times of increased strain, a lot of stress or extraordinary loads. In this way, noticeable physical imbalances such as sleep disorders, pain, cramps or intestinal diseases can be balanced out. The valuable plant substances of hemp such as CBD are used and mimic the effects of the body's own cannabinoids. In this way they help maintain inner balance.
CBD capsules or CBD oil?
CBD capsules and CBD oils have the same nutritional benefits and properties. For many, however, taking the daily dose of CBD in capsule form is more convenient. A simpler overview, an even dosage and the possibility of practical take-along are arguments that speak in favor of buying MEDIHEMP organic hemp CBD capsules. One disadvantage of CBD capsules is that they do not work as quickly as when taken as a liquid CBD extract. This is because absorption through the digestive system takes longer than absorption through the oral mucosa when taking CBD extracts in liquid form. However, the CBD capsules have a great advantage for sensitive and very taste-sensitive people. The naturally tart taste of the liquid CBD extract is eliminated thanks to the quick and easy intake. If you don't like the taste of liquid CBD extracts at all, we definitely recommend the MEDIHEMP Organic Hemp Complete Capsules.
How do I take hemp capsules?
We recommend taking 2 capsules of MEDIHEMP Bio Hemp Complete Capsules daily with sufficient liquid. Our consumption recommendations for CBD capsules comply with the EFSA (European Food Safety Authority) guidelines for hemp foods. Our customers gave us a tip on how to regularly think about taking the hemp capsules. Many people place the CBD capsules next to the coffee machine and take them in the morning or have them ready to take with them every day. We think it's an easy and convenient way to solidify your CBD routine and never forget to take it again.