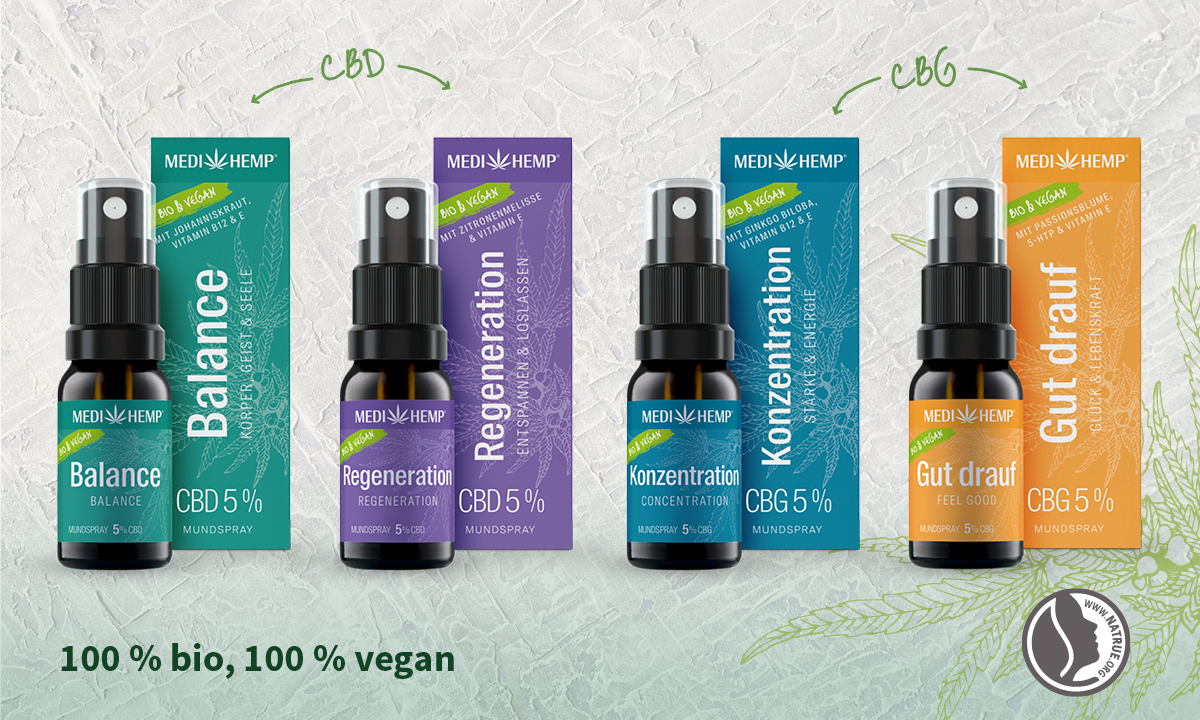 With our new organic CBD & CBG sprays you are well prepared for the everyday stress. Our mouth sprays were developed for all those who want to have CBD or CBG combined with natural flavours such as lemongrass-ginger or peppermint.
The advantage of the mouth spray is not only the easy handling due to the handy spray head, but also the added herbal extracts that provide the additional boost. These include good sleep, relaxation, concentration and invigorating freshness.
CBD & CBG - what's the difference?
Our mouth sprays come in CBD spray or CBG spray, but what is CBG as opposed to CBD anyway? CBGa is derived from the Santhica variety and is a parent cannabinoid to CBD. You can find more on this topic here:CBD & CBG - what's the difference?.
For work-life balance & on the go
The MEDIHEMP mouth sprays are a natural supplement to the MEDIHEMP CBD extracts. Nevertheless, they offer further advantages due to the additionally added herbal extracts.
Advantages of added herbal extracts
MEDIHEMP Organic Balance CBD Spray with St.John's wort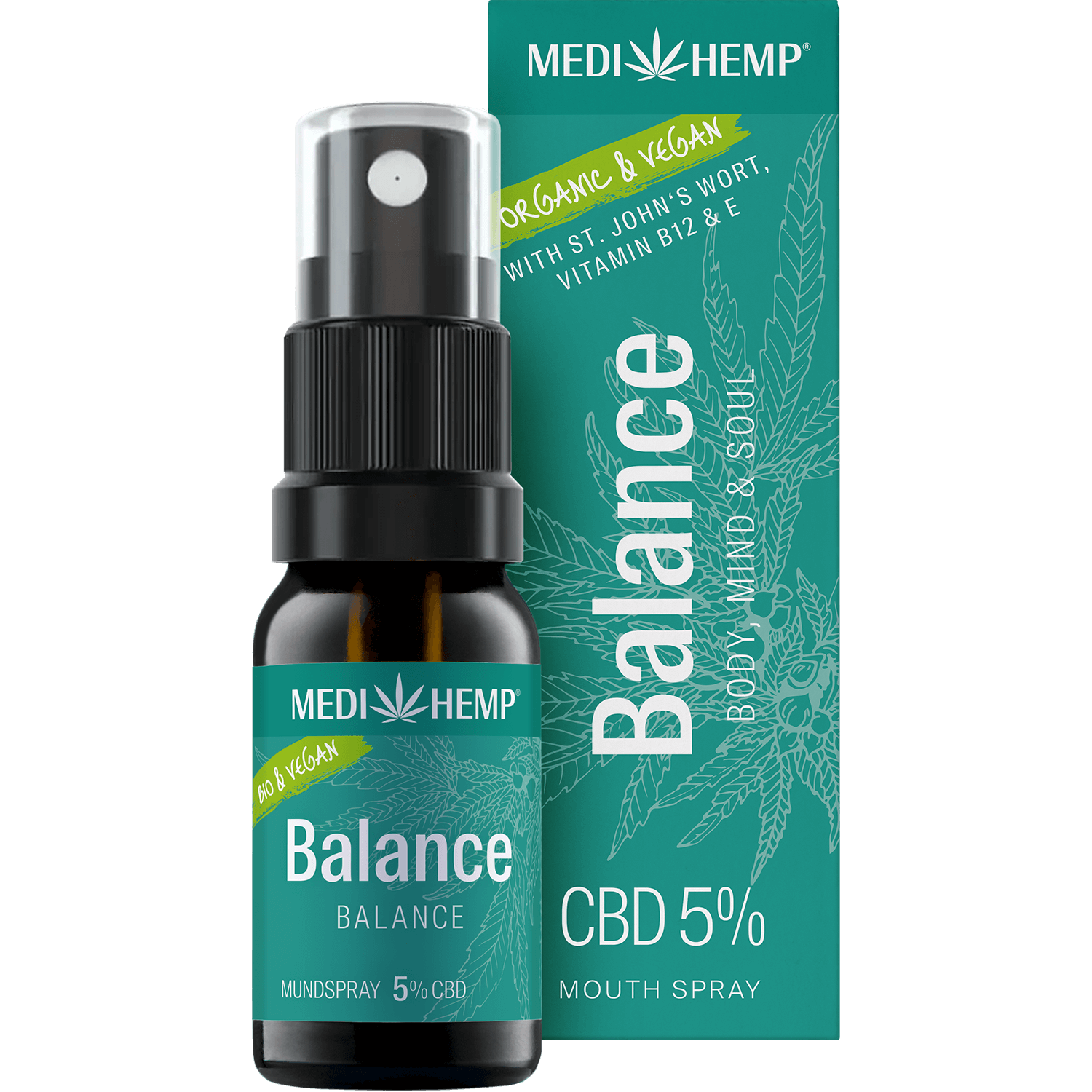 St. John's wort is also known as a natural antidepressant. As the name suggests, our Organic Balance CBD mouth spray is known for its balancing properties for body, mind and soul.
Flavour: vanilla tonka aroma
MEDIHEMP Organic Regeneration CBD Spray with lemon balm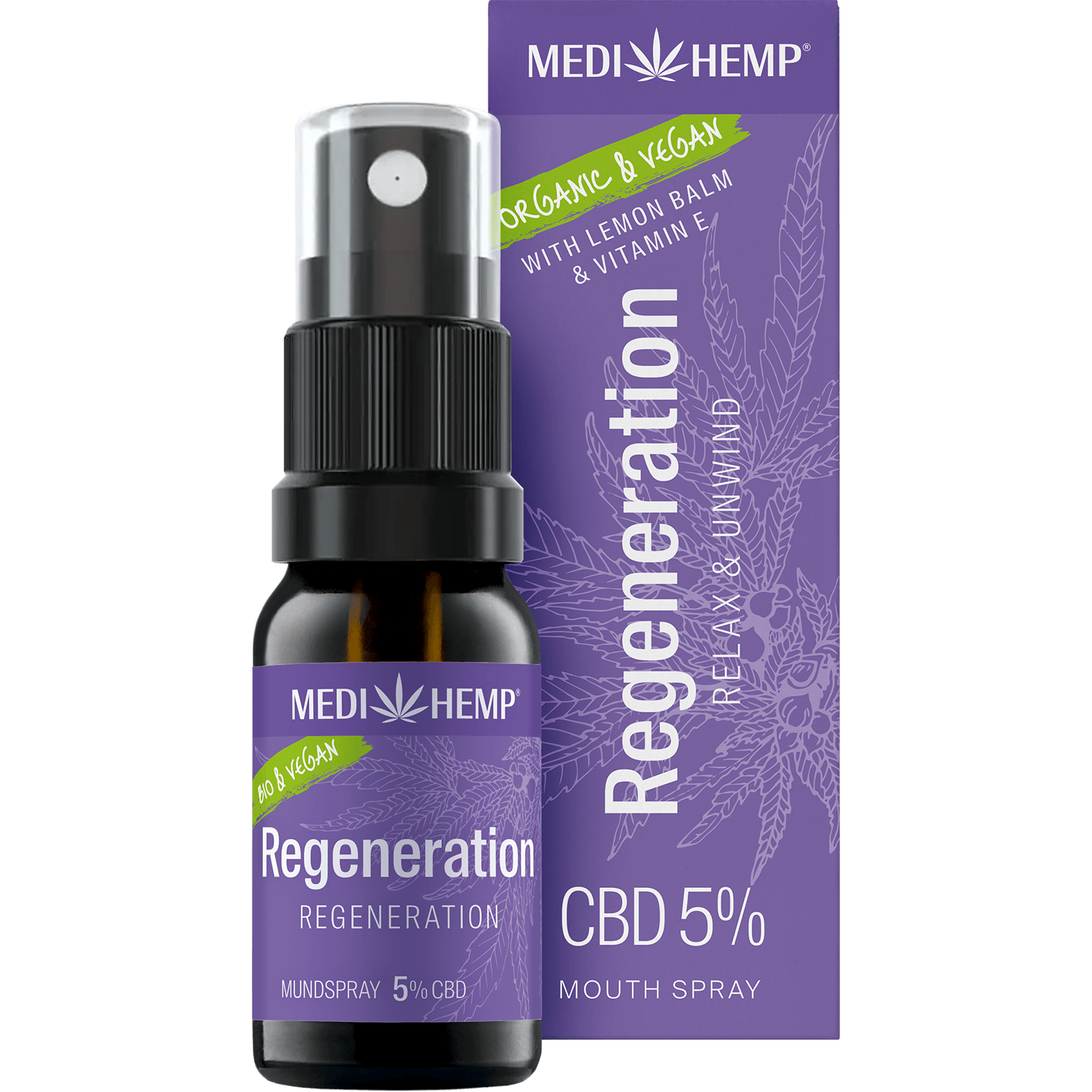 Lemon balm is said to have an antibacterial effect. Our MEDIHEMP Organic Regeneration CBD mouth spray is known for its relaxing properties. The focus lies on letting go, reviving and improving one's well-being through complementary supplements.
Flavour: lemongrass-ginger aroma
MEDIHEMP Organic Feel good CBG Spray with Griffonia (5-htp) and passion flower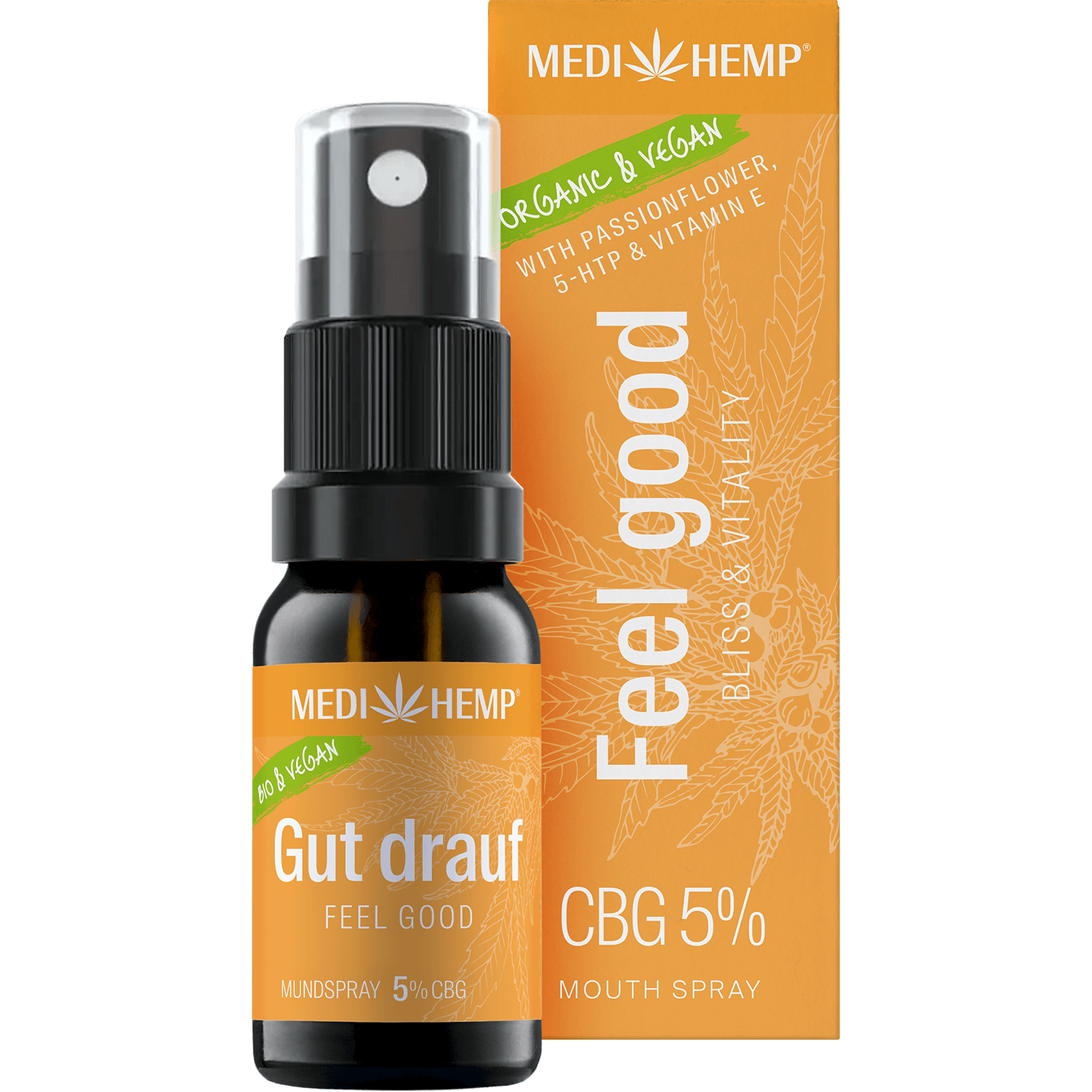 Griffonia or also called 5-HTP is an active ingredient known for its mood-boosting properties. Passionflower provides the extra portion of happiness & vitality.
Flavour: peppermint aroma
MEDIHEMP Organic Concentration CBG Spray with Ginkgo Biloba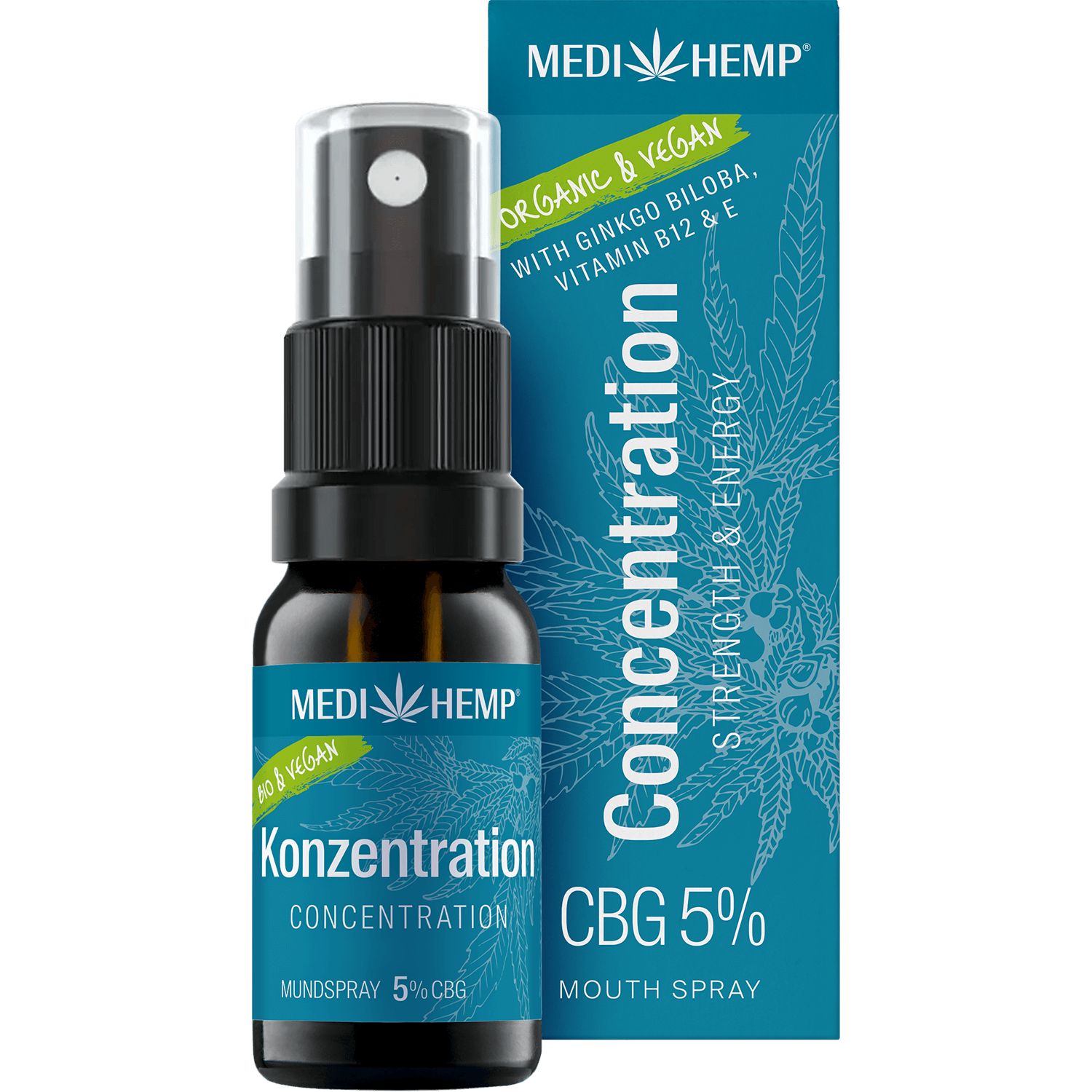 Ginkgo Biloba is, as the name of the spray already reveals, known for its concentration-enhancing property. Through CBG/CBGa here additionally strength and energy is addressed.
Flavour: orange aroma
Side note: Cannabidiol acid | Cannabigerol acid
In addition to CBD or CBG, the sprays also contain the active ingredients CBDa or CBGa, which is the cannabidiol acid or cannabigerol acid.
The characteristics of the cannabidiol acid or cannabigerol acid:
They are important components of untreated industrial hemp plants.
They are precursors of CBD or CBG.
CBDa and CBGa have an effect on the serotonin receptors and are thus known for their anti-anxiety and anti-inflammatory properties.
Important vitamins as an additive to our MEDIHEMP organic mouth sprays
Besides the addition of vitamin B12 in Organic Balance CBD Mouth Spray and Organic Concentration CBG Mouth Spray, vitamin E is also included in each of our CBD & CBG sprays.
Vitamin E is known for its effect against fatigue, vitamin B12 for its cell protection against oxidative stress - therefore we are convinced that our mouth sprays have a positive effect on stressful everyday life.